Career
in MONDI Resort am Grundlsee
Whether housekeeping, technical work or wellness. Services, kitchen or reception desk: There are plenty of opportunities at our MONDI Resort am Grundlsee. Together with 65 colleagues, we create unforgettable time off. Relaxing and relishing moments. Exquisite culinary art. Unique events. That is why we are always on the search for newcomers. Movers. And pros. Those not only seeking a source of income. But rather an ample space for new ideas and a very personal place within our great team.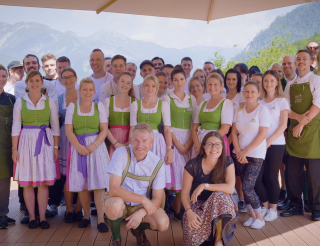 About us
From 1991, the MONDI Resort am Grundlsee has been managed by its director Franz Kromoser. With a lot of experience, passion and fun, he manages his team counting up to 65 people, in which everybody can rely on one another. And stand for each other.
Following the motto "enjoyment all year round" brings the best for each team member to be able to inspire guests equally from spring to winter. Strengths and talents are wanted here. New ideas always welcome. And togetherness sacrosanct. In many respects, we are open to individual solutions and avoid rigid procedures. Quite briefly, our aim is to allow for a good time and happiness at work for all of us. 
Welcome cordially at MONDI Resort at lake Grundlsee!

start Video





Our Benefits
What we offer to our colleagues
We rely on longstanding collaboration. And we know how to appreciate the commitment of every individual team member. As an inspiring employer, we offer:
ein sehr gutes Betriebsklima
A very good working climate
Performance-based remuneration accordning to collective agreement (14 salaries/year)
Diversified tasks
Agreeable working environment
Regular working hours with a 5-day week
Duty roster wishes are followed as far as possible
Work catering, service clothing (depending on department)
Free of charge accommodation options as required (studio with bathtub, kitchenette, TV, W-LAN …)
Free of charge parking places
Free use of hotel infrastructure (bicycles, billiard, wellness, pool, …)
Ongoing education within the MONDI academy
Employee discounts in partner companies within the region
Team excursions
The most beautiful view of the Alps :)
many discounts in the region with the Ausseerland Benefit Card

Our Team
Our crew consists of up to 65 professionals. Trainees, pros and newcomers work together to achieve success for the MONDI Resort am Grundlsee. As a friendly team inspiring their guests by top services. And living a family-like, respectful togetherness. We are happy to introduce some colleagues:
Franz Kromoser
Director
from 1991 at MONDI Resort at lake Grundlsee
Classic education as cook and restaurant specialist, diverse positions both nationally and internationally, involvement in all departments in various hotels – these are the initial years of my career. Several years in Germany, from North to South (Timmendorfer Strand, Bad Oeynhausen, Baden-Baden, Schliersee | Spitzingsee, Starnberger See), these were the last stops, before ...
... Mr. Leonhard Dörr took me to MONDI in 1991. In those days, it was hardly foreseeable, that 30!! years later, I would be at the same place in the managing function of the hotel director. Always new plus additional areas of responsibility: Establishng and continuous enhancement of gastronomy (3 Chef's Toques at the Wassermann restaurant), construction from scratch of the Grundlsee chalets, and, and, and.
My professional and private (one grown up son) ongoing development is more and more important for me, especially in the recent years. The exams for certified hotel director with preceding preparatory courses on the highest level gave me a new impetus. Apart from that, I always learn from my new and young colleagues. I hope that they also learn something from me. I like my tasks, my dealing with guests and colleagues, my working in team, and all of that in combination with an exceptional region. I am unable to imagine a better place of work.
Privately, you would find me with sports, with friends having a good meal or with my life companion on motorbike – with pleasure also abroad.
Anne-Marie Angerer
Reception Desk
from 2019 at MONDI Resort am Grundlsee
During my school time, I was undertaking various holiday jobs - in marketing events for diverse furniture retailers, as cleaning girl in my sister's firm and as waitress. Having completed high school, I lived for two years in Gmunden, and studied commerce and law in Salzburg ...
... for a semester while working as service person for inventories in whole Austria. Finally, I was employed in my brother's guest house for almost three years. As I was originally quite introverted, it was not easy for me to approach other people. I did not consider myself fit for a job in tourism. Yet, having started in services, I had to jump over my shadow. 
Today, I am happy to meet people. I am curious about their adventures and observations and willingly share mine with them.
From 2019, I have been at the reception desk of MONDI Resort am Grundlsee. Diverse daily activities, team spirit between colleagues, the freedom to develop in one's own direction, and support from the management – all of this shows me that this is my right place. Guests from all over the world visit us here, not least because of the time sharing model. New tasks and challenges allow me to always learn something new and to further enhance my skills. The exquisite view of the Grundlsee lake is a cherry on my cake.
Concerning my spare time, you can find me on a volleyball court, rock climbing, hiking, on the lake or, in winter, on the slope.
Sigrid Schanzl
Breakfast Team
from 2000 at MONDI Resort am Grundlsee
Following graduation from the HBLA Wolfsberg, I have found my life's middle point at the Grundlsee lake. For 21 years, I have been belonging only to the MONDI family.
Together with my breakfast team, my responsibility is ...
... that our guests have a good start to every single vacation day with us. My tasks include preparation and setup of buffet, guest services during breakfast hours, as well as finishing works and storekeeping for our products. Regionality and requirements on high quality of our products are very important to me. I highly appreciate and prefer to buy for the hotel food supplies from farms, bakers and butchers from the region. Since the opening of the chalet village, also composition of individual breakfast baskets for our chalet guests belongs to our daily morning work.
I like the vivacity of our house. The kaleidoscope of the most diverse age groups, nationalities and personalities of both our guests and our colleagues makes every hotel day quite new for me. Over all these years, our operation went through many changes, but our mutual appreciation, my motivation to deliver a great job and my loyalty towards our MONDI family remain the same.
After a hotel morning with some 250 encounters, I ideally relax with sports. My preferred leisure activities include ski tours, cycling and mountain hiking.
Stefan Haas
Chef in Gasthaus SEEBLICK & Restaurant WASSERMANN
from 2014 at MONDI Resort at lake Grundlsee
One would almost laugh, as I have completed my apprenticeship as carpenter. Anybody seeing me with a hammer in my hand would grin. Then I spent a couple of years examining what I enjoy doing, and finally arrived – inspired by Jamie Oliver – at cooking. I figured out: cooking accompanies us throughout life. You can relieve the burden on your mother and, what's even more, give joy to your family and friends. Having a meal together is a valuable and beautiful time.
So I took a 1.5 years retraining to become a cook, learned a lot of new things and realized, how fast the day goes by in the kitchen. After that, I got to exploring some good establishments in Salzburg: among others, the Gasthof Brandstätter with a Michelin star and two Chef's Toques, the Hangar 7. And a gourmet catering operation. Improvisation and real challenge!
Next, propped against a solid basis, I have plunged into self-employment in Aussee. And also now, as chef at the MONDI Resort m Grundlsee, I strive to introduce what is often missing in the stressful kitchen routine: a sound togetherness within the team. I respect my colleagues, we listen to each other and are open to empathy. We are great companions and every work we do, we do together. The nice thing is that, at MONDI, there is a lot of room for new ideas. Thanks to this free space, we are able to convert many things, not only dream creatively.
The Aussee country is a one offering splendid ingredients. Fresh fish, good bread or butter. And not to forget, a whole mountain full of savoury salt. The passion for these products, the fun from trying out new things and combining them – this is relaxing for me. I have no need to follow a trend, is it enough to ask critically and to have a straight enjoyment from working together. Our hanging together is simply great. This only produces good things. And, on top of that, nice feedback from our guests and awards. The three Gault Millau Chef's Toques.
In my spare time, I do some running, train in gym or ride my bike along the Grundlsee lake. And it makes me happy again and again, how appealingly beautiful this place is. Apart from that, I meditate and try to reflect. It fills me with gratitude, humility and pride when I feel that I have attained exactly what I always wished. Cooking is my vocation, by which I can give joy to many people.
Dragana Petrovic
Housekeeping
from 2014 at MONDI Resort am Grundlsee
In my homeland Croatia, I have graduated from a business college. My origins are in a rural region. Sitting at a PC in an office all day long without moving, not being able to go out, that was unimaginable for me. So I started to work as chambermaid in larger towns in Istria. For three seasons, I was selling asparagus in Germany. There, and already before that at school, I learned German. However, when I came to the Grundlsee lake, I did not understand a word. The dialect is absolutely special here.
From 2014, I have been here at the Grundlsee. My aunt had asked me whether I would like to work here for one season. That was seven years ago. The working climate is so good here, the whole MONDI team holds firmly together. The work is very dynamic. No day is like any other! Daily, there are new challenges. Also my brother works here, and I go home every two months. My time passes by like a flash. So I do not feel being far away.
I especially like the tranquillity of this place. Most of all in the autumn, when all colours of forest mirror in the lake and it is not too hot anymore, but also not too cold yet. That is my favourite time. I like being in nature together with my dog Max. Another good relaxation for me is shopping or having a coffee with my friends.
Martin Budemayr
Cook in training
from 2020 at MONDI Resort aam Grundlsee
During my school time, I repeatedly had various holiday work opportunities to get the feel of working in gastronomy, and thus learned to love being the host.
After the leaving exam, it was clear to me that I would like to make my passion my profession. That is why I decided to start my cook training at the Gasthaus SEEBLICK and in the WASSERMANN restaurant.
I know nothing better than doing what I love day after day. Cooking with good comestibles. In that way, preparing joy for others. Give free rein to creativity. Bring in your own proposals and work largely on your own. This is what makes me happy.
When your profession demands a lot and means more for you than eight hours a day at work: Every day, I am happy to do that handwork and to be able to continue learning it. My particular concern is also to pursue my ongoing personal development and to always try new things.
Privately, I often make up for my balance in nature and in the mountains. Doing that, I realize how beautiful it is that I can live and work here, where others come for holiday.
Vacancies
in all Mondi Hotels & Resorts