YOUR SUMMER HOLIDAY AT LAKE GRUNDLSEE
HIKING. CLIMBING. MOUNTAIN BIKING. IN THE SALZKAMMERGUT
The summer season on the lakeside is like a dream. Even more so as it is framed with views of the summits of Archkogl (1,580 m), Loser (1,837 m) or Schoberstein (1,037 m). And it promises countless hiking, climbing, cycling or mountain biking tours. The Aussee country is famous for its beautiful views along routes to Kendl, along the Altaussee or Almsee lakes or along the Tauplitzalm drive route. Equipped with hiking maps and right tips, you can live a new summer adventure each and every day. Whether on your own, with an e-support or including relaxing cable cars.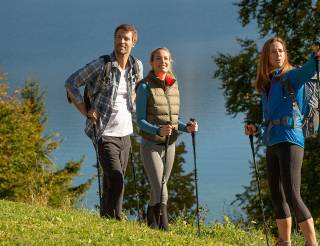 HIKING & WALKING
DISCOVER THE MOUNTAINS IN THE AUSSEE COUNTRY
Hiking and Nordic walking in the Aussee country means enjoying piece. Discovering nature. And refuelling fresh energy. In the heart of Austria. In the Styrian Salzkammergut. You will find the right tours for every age. Whether strolling along the ridge way from the Grundlsee to Gössl. Ascent upon the mountain of Backenstein (1,763 m). Or a challenging trek onto the Trisselwand (1,754 m). Find here your favourite tour between Dachstein and Totes Gebirge.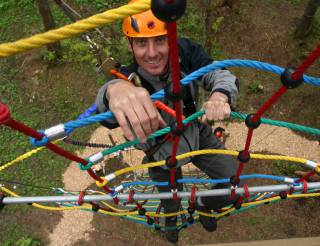 CLIMBING IN AUSSEERLAND
Via ferrata & routes with adrenaline guarantee
If you want to go high, you will find via ferratas and climbing walls in all degrees of difficulty in the Styrian Salzkammergut. Whether through the Trisselwand with impressive deep views over the Altausseersee. On the exposed Loser-Panorama-Steig "Sisi". Or on the not so easy Gössler Wand at the Grundlsee. Discover the fascinating climbing possibilities in Ausseerland.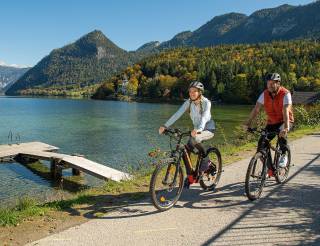 Cycling in the Salzkammergut
with mountain bike, racing bike or e-bike
On bike through the centre of Austria. At our hotel reception, wonderful destinations for your bike tours of all kinds are ready, as well as personal route suggestions for all conditions and all levels of experience. You can also rent e-bikes and modern mountain bikes from us. For relaxed lake trips. Challenging Alpine roads. And impressive experiences from nature. Ideal also with a gravel bike.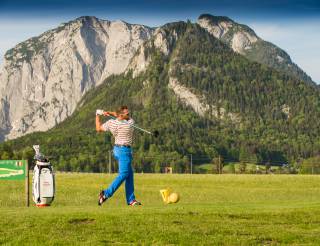 GOLF & TENNIS
THE MOST BEAUTIFUL SPOTS IN THE AUSSEE COUNTRY
The magnificent Ausseerland golf course is situated just 5 minutes from the MONDI Resort am Grundlsee. The idyllic 9-hole paradise, in which MONDI guests have a 20 % green fee discount. And every autumn, the SEEBLICK golf masters are disputed. 4 additional golf courses are available within reach.
During your holiday at the Grundlsee, your tennis entertainment will be pure and perfect. Two tennis facilities are situated nearby, equipped with artificial lawn, modern granulate and green "Green Tenn" sand, whatever you prefer.
We shall be glad to provide you with individual information on all golf & tennis opportunities at the Grundlsee at our reception desk.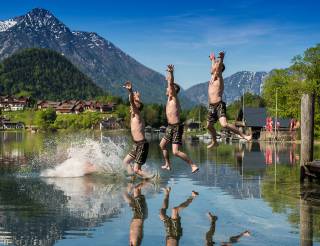 SWIMMING & WATER SPORTS
DISCOVER THE AUSSEE LAKES
Whether the Altaussee lake, Grundlsee, Ödensee, Steirersee or Salza Stausee: The lakes in the Aussee country not only beautifully glitter on the sun. They can also be wonderfully circled around on foot or on bike. After walking, they invite to cooldown and relaxation. And offer such options as boat rides, boat rentals and Plätte boat tours, standup paddling or ultimate bathing fun in diverse outdoor pools.
FURTHER ACTIVITIES
UNDERTAKINGS IN SUMMER AT THE GRUNDLSEE