Our conference rates for your event
At the MONDI Resort am Grundlsee. Reliable. And fair
For everybody wishing to dedicate more time to the contents than to the planning of the event. And to know in advance very exactly what they should calculate for a happy participant.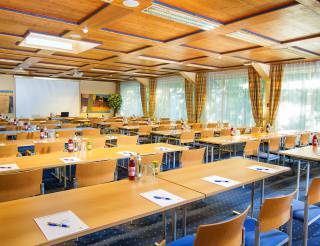 Rental of conference room
Eugenia-Schwarzwald hall (212 m²): 600.00 € per day
Toplitzsee (142 m²): 400.00 € per day
Kammersee room or Grundlsee room (70 m² each): 200.00 € per day
Castiglione room (45 m²): 200.00 € per day
Tressenstein room (45 m²): 200.00 € per day
Group room (25 m²): 100.00 € per day
The use of the main conference room is free of charge when participants are accommodated in the MONDI Resort am Grundlsee and a seminar rate is booked.