PLAYFUL: THE RESTAURANT WASSERMANN (3 CHEF'S TOQUES)
CUISINE AS A SYNTHESIS OF ARTS. AT THE GRUNDLSEE
The culinary, award-winning art of Stefan Haas & team. The recommendation for special occasions and lavish evenings. Experience moving moments of pleasure. For up to 30 gourmets who let themselves be led into extravagant worlds of taste. Creative and surprising. Top quality, fresh, mainly local produce. Peppered with inspiring impressions for all the senses,through enchanting colour variations and inspiring compositions. Extraordinary symbioses. Experience culinary delights and excellent service. Discover high-quality wines and let our experienced sommelière advise you individually. This is exclusive FINE DINING in the Ausseerland.
Compose your individual menu from 3 to 6 courses
For an optimal course of events we recommend arrival by 7 pm
Table reservations requested, to help us ensure an all around service
Our Opening Times:
Friday through Saturday 6 to 9 pm
Enjoyment needs time. For a perfect menu sequence, our recommendation is to arrive before 19:00.
Please understand that we cannot receive dogs in the Restaurant WASSERMANN.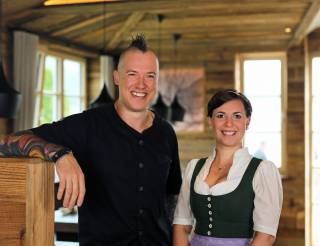 Your Hosts
Stefan Haas, the chef with 3 toques
Responsible for the playful cuisine. The composer of flamboyant taste variations. The composer of colourful visual treats. Classy. Particular. Passionate.
Hannah Savel, Restaurant-Manager
Providing for the atmosphere, smooth running and a high level service. Responsible for the perfect wine accompaniment and choice of drinks (together with our sommelière).
"We work together on preparing happy surprises for our guests."
Top Culinary Offers
For your enjoyable time off at the Grundlsee